Miniature Schnauzers are a very devoted breed and make a great house pet.

They do not shed and are excellent pets for people with allergies.

The Miniature Schnauzer does require grooming about every six to eight weeks.

They are very good obedience and agility dogs  and love to compete.

Ch. Char N Co Red High Heels

              "Stiletto"

Links to Miniature Schnauzer Information

Signs of a Good Breeder

Objectives are the welfare and betterment of the breed.

Belong to local or national breed clubs..

Conduct health screening that is recommended and available for their breed.

Ask a lot of questions

Offer information on breeds problems.

Can tell you about the pups parents, grandparents and great grandparents.

Provide appropriate nurturing and socialization for their pups.

Have healthy puppies that are current on vaccinations

Require spay and neutering of pups.

Do not accept Credit Cards

Accept their dogs back at any time and any age, if you are no longer can own the dog.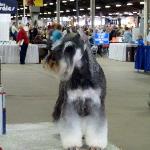 Click on image to enlarge